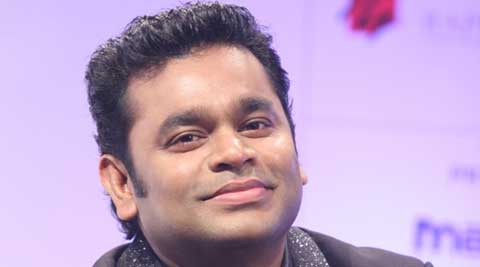 AR Rahman ventures into screenwriting, film production
Two-time Oscar-winning music composer AR Rahman now wears a different hat and is working on his own screenplay after feeling challenged to try a different genre of music.
Rahman was in the city for the world premiere of 'Jai Ho' on February 25, a new documentary about his amazing life and career which has screened at the prestigious Museum of the Moving Image here to a full house.
The musician said the idea of ​​producing a film and writing a script came to him because he wanted to challenge himself by going beyond the realm of music and trying something new.
[related-post]
Rahman, who has composed the music for over 100 Hindi and Tamil films as well as for Hollywood projects, said there is a kind of repetition in the way songs are composed for Indian films. He said every movie ends up having a few melodic numbers and an item song.
"How much can you do that. You've done everything, so in order for me to force myself to challenge myself, I thought about letting myself build my own platform to challenge myself. So this idea of ​​film production and scriptwriting was born, "he said, adding that the casting for his first film had already started. He did not give more details about the film, however.
He added that when he was working on the British musical "Bombay Dreams", his composer Andrew Lloyd Webber asked him if he had any story ideas. Rahman replied that he was a music composer and had no idea of ​​his own history.
"But one day I thought why not," he said, adding that when he observed people from different cultures he wondered what their story would be and that is what interested him in script writing.
Rahman, 48, best known in the United States for his Oscar, Golden Globe and Grammy-winning score for Danny Boyle's "Slumdog Millionaire", however, ruled out wearing the director's cap, saying he was "introverted. "and that he did not see himself. as a director.
"Jai Ho" is a 60-minute film directed by nationally awarded producer and director Umesh Aggarwal. The title of the documentary is derived from the hugely popular eponymous song composed by Rahman for "Slumdog Millionaire". It has become a cult hymn and is performed by singers around the world.
"We are honored to welcome AR Rahman, an icon of Indian music, and the world premiere of Jai Ho," said David Schwartz, Chief Curator of the Museum.
"While 'Slumdog Millionaire' has caught the attention of many Americans, Rahman has had a long and accomplished career in India and abroad for nearly two decades. This intimate and gripping documentary shows why he is widely regarded as one of the world's greatest film composers.
The documentary traces the milestones in Rahman's personal and professional life and features footage from concerts and interviews with Rahman, his mother and sister. It also features conversations with Boyle, Webber, Indian directors Shekhar Kapur, Subhash Ghai and Mani Ratnam, and lyricists Gulzar and Javed Akhtar that shed light on how Rahman has changed Indian and global music with his unconventional tunes.
Jai Ho, produced by the Public Service Broadcasting Trust of India, explores the evolution of Rahman's style of music – a fusion of Eastern sensibilities and Western technology.
Covering Los Angeles, London, Chennai and Bombay, the film reveals an invisible tale of the Indian icon who is "nothing less than a global phenomenon".
Rahman also talks about his struggles after his father passed away when he was very young, his decision to convert to Islam, and how his musical goals convey the universal language of compassion and love. .
Rahman said he was initially reluctant to shoot a movie about him because he felt he was "not worth it". After agreeing to make a documentary about him, he said he wanted it to be simple and he could inspire people and not exaggerate his accomplishments and awards.